PIZZA SOCKS BOX Pepperoni 1 pair Cotton Socks Made In Europe Man Funny Gift!
Product Price
$14.99
Product Review Score
4.41 out of 5 stars
188 reviews
When you order through these links, we may earn a commission at no additional cost to you.
Additional Product Details
PIZZA SOCKS FOR EVERYONE - Are you a fan of pizza or colourful socks? Then, Pizza Socks Box Slice is an ideal product for you! The fashion for colourful socks flourishes and you won't be able to find crazier socks than pizza socks that are packed in a box that looks like a real pizza. Our socks look funny and original also on their owner's feet. They match both casual clothes, a pair of jeans as well as a jacket and a suit. Pizza socks are funny, crazy, colourful and happy!
ORIGINAL IDEA - Our Pizza Socks Box Slice is the only product of this type on the market. It was invented "from scratch" by a lover of pizza and colourful socks who decided to combine these two things and create Pizza Socks. Pizza Socks Box Slice is a guarantee of an exceptional and unique gift which is an outcome of the love of the popular and beloved Italian meal that is Pizza. If you've got a friend who loves to eat, it is an ideal solution for you 😊
FANTASTIC GIFT - Surprise your closest friends with the contents of the box! Owing to a traditional packaging in the shape of a pizza box, Pizza Socks are ideal as an exceptional gift for your friends and family. Fun and lots of laughter guaranteed :D Show your nearest and dearest your sense of humour and give them a little bit of colour accompanied by a wide smile. Our Pizza Socks are cheerful and funny, yet equally practical as they will be useful for the gift recipient in the following years
HIGH-QUALITY EU PRODUCT - Pizza Socks are produced in a small family production plant in Central Europe, where the quality of the product is treated as a point of honour. The cotton that we use during the production process has been confirmed by OEKO-TEX certificate which is an international symbol of the best quality of textile products. Our socks are a competition for the cheap low-quality products from China. Our socks are natural without plastic full print which is very bad for your feet.
ATTRACTIVE VARIETIES AND COLORS - We offer a wide choice of "tastes" and sizes. Our offer includes one-pair Pizza Boxes in the following versions: Pepperoni, Capricciosa, Italian, Hawaiian, and Vegetarian. Each type has a unique pattern in vibrant colors that look great on your feet. Pizza Slice is a perfect idea for a small gift for your nearest and dearest. Each Pizza Socks Box Slice comes in size 5.5-9, 9.5-13, 14-15. Wash at 104°F or lower.
Our Policies
Secure Checkout

Guaranteed safe & secure

Easy Returns

Fast & easy product returns
More options on eBay...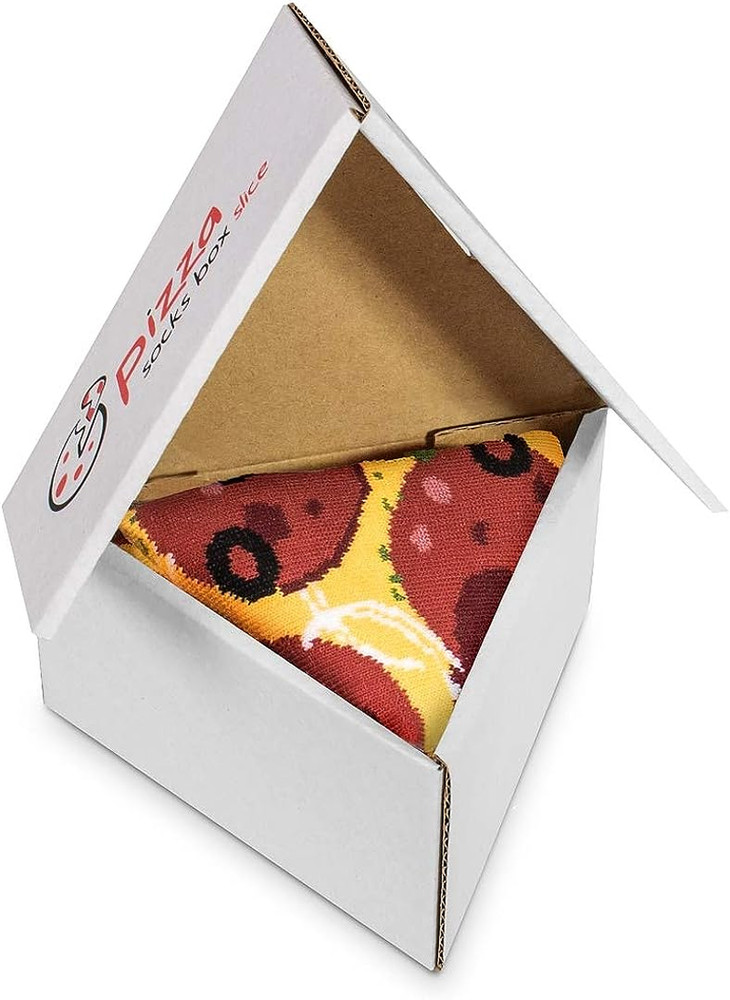 PIZZA SOCKS BOX Pepperoni 1 Pair Cotton Socks Made in Europe Unisex Funny Gift!
When you order through these links, we may earn a commission at no additional cost to you.