Zorestar Apple Cherry (Fruit Mix) - 13-15lb - Wood Chunks for Smoking and Grilling
Product Price
$28.79 $24.99
Product Review Score
4.15 out of 5 stars
218 reviews
When you order through these links, we may earn a commission at no additional cost to you.
Additional Product Details
🔥 The Box with Apple/Cherry Wood Chunks for Smokers + Bonus Apple Chips bag weight is approximately 13-15lb (+/-5%), with their size varying between 2-3 inches each. Smoker wood chunks are a seasonal occurrence, meaning that at some point cherry chunks would be swapped out for peach and vice versa, while the bonus pack of smoking wood chips is apple at all times!
🔥 100% NATURAL: being precision cut out of solid wood logs and completely eco-friendly and organic, Zorestar smoking wood chunks pose no risk of emitting any intoxicating chemicals or fumes, which results in a true smoke aroma and smoking experience!
🔥 BREATHTAKING AROMA: cherry and apple wood chunks for smokers are the perfect addition in cooking beef, pork, salmon, lamb, seafood, or game, as well as vegetables and baked goods. Giving off a mild, subtly sweet, fruity flavor, the taste you get from the apple, cherry hickory wood chunks mix truly can not be compared to anything, while the addition of smoker wood chips makes it even better!
🔥 KILN-DRIED WOOD: the moisture content of bbq wood chunks and wood chips for smokers sits at 6-8%, being just the right figure to gradually smolder and emit rich, flavorful smoke at a constant rate, gifting your dish with a scrumptious smoke crust!
🔥 WORKS WITH ANYTHING: mix of fruit smoke wood chunks may be used for smoking and grilling with gas grills, charcoal grills, and all types of smokers. Just 3-5 chunks and a sprinkle of apple wood chips for smoking would be enough to smoke up any dish of your liking - enjoy!
Our Policies
Secure Checkout

Guaranteed safe & secure

Easy Returns

Fast & easy product returns
More options on eBay...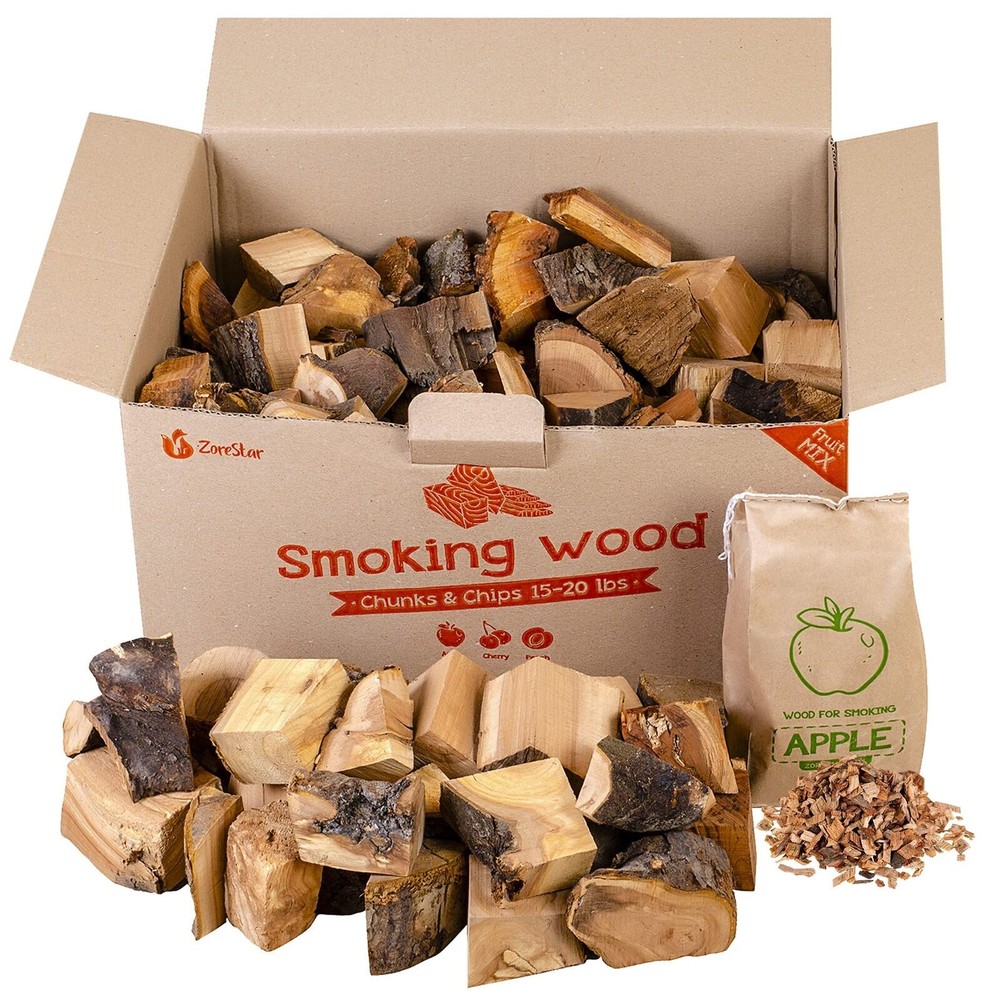 Apple Cherry (Fruit Mix) - 13-15Lb - Wood Chunks For Smoking And Grilling
When you order through these links, we may earn a commission at no additional cost to you.